Winter is the season for soup. So, snuggle up with a bowl of this creamy and indulgent soup, that will instantly warm up any cold day. Deliciousness that will leave you feeling full and super satisfied.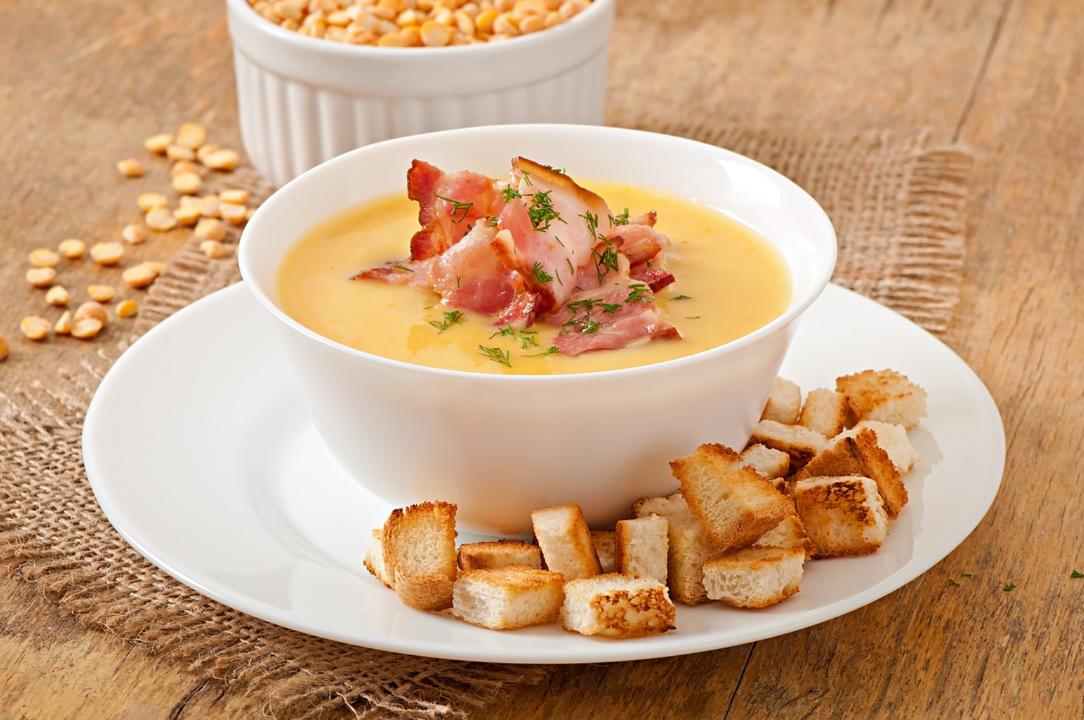 Soup Ingredients
300 g bacon
3 Tablespoons rendered bacon fat
1 medium onion (diced finely)
2 medium carrots (peeled and chopped)
2 celery stalks (chopped)
½ cup bacon (cooked and finely chopped)
5 cups unsalted chicken stock
1 cup dried split peas
1 tablespoon lemon juice
1 tablespoon sour cream
4 sprigs of thyme
1 ½ teaspoons of salt
¼ teaspoon of ground black pepper (or to taste)
Bacon croutons for garnish
2 tablespoon rendered bacon fat
1 tablespoon unsalted butter
1 cup roughly chopped bread
Pinch of salt
Ground pepper
Garnish
Pea-shoots and Chives
Soup Method
Fry bacon on medium-high heat until crispy (to your liking)
Take the bacon fat left over in the pan, and place in a pot, add onions, carrots and celery and sauté until vegetables are translucent (not brown) for about 15 minutes
Add salt, pepper, thyme, bacon, split peas to vegetables and continue to cook for 1 minute on medium heat.
Add 5 cups of chicken stock and bring to a boil
Then reduce to medium heat and simmer for 45 minutes
Once split peas have cooked through, blend small amounts of soup at a time with your blender until very smooth
Once all soup is blended mix through sour cream and lemon juice

Bacon croutons Method
In a medium pan heat bacon fat and butter
Once hot, add bread, pinch of salt and ground pepper to taste
Cook the croutons until brown for about 3 minutes
Take out and grill in a pre-heated oven for 2 minutes

Serve:
Portion soup, garnish with dollop of sour cream, bacon, pea-shoots (optional), chives and hot bacon croutons.
Note: Croutons you can store in airtight container for up to a week
ENJOY!