Bruschetta with roasted bell pepper, goat cheese, garlic and herbs
Colourful sautéed bell peppers are the star of this dish and they are finished with so many delicious flavours. A crowd-pleasing appetizer that works perfectly for your lock-down family dinner time. And that's not all. A Bonus: it freezes really well!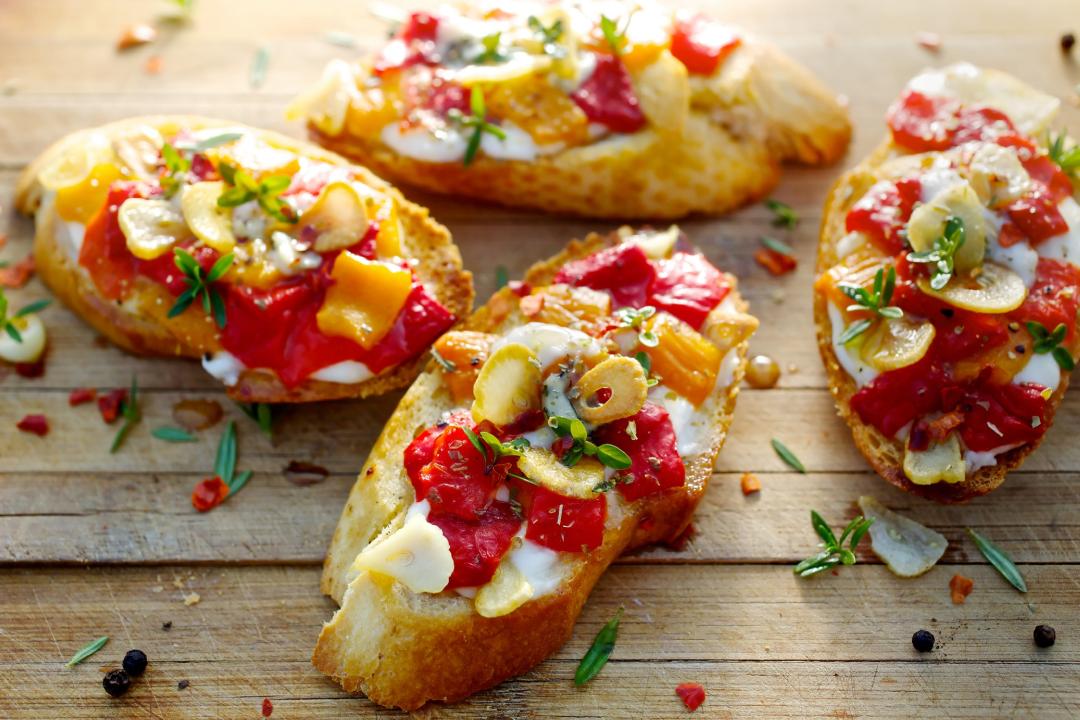 Ingredients:
4 x Large Bell Peppers (Red, Yellow or Orange, and Green)
1 ½ Tbsp extra virgin olive oil
2 Tsp balsamic vinegar
2 garlic cloves (minced)
1 Tsp sea salt
½ Tsp black ground pepper
1 French Baguette (or you can bake your own bread – see recipe below)
50 g plain goats cheese / cream cheese (room temperature)
Fresh basil leaves
Method:
Preheat the oven to 180°

Place the bell peppers (whole) on a baking sheet and roast for up to 40 minutes until the skins are completely wrinkled and charred (turning a couple times while roasting)

Remove from the oven, cover tightly with foil and let it rest for 30 minutes

Cut the bell peppers into quarters and remove and discard peels and seeds

Slice peppers into centimeter slices and transfer into a medium bowl
Marinade:
Add olive oil, balsamic vinegar, minced garlic, sea salt and ground black pepper in a bowl.

Stir to combine the flavours

Pour the marinade over your cooked bell peppers and make sure all the pieces are covered.

Let it sit at least for an hour before serving (or overnight is even better)
For the perfect bread
Baking Spices

3 ½ cups of Snowflake Bread Flour

½ packets Instant yeast

1 tsp Salt

3 tbsp Sugar

1 stick Butter, unsalted

1 cup Milk

½ cup of water

Roll the dough into an oval shape

Bake on 180 degrees for 20 to 30 mins until bread is cooked
Ensemble
Cut your bread in 3-centimeter slices

Brush both sides with olive oil and bake for a further 3 to 5 minutes (until edges are crisp and centers are still soft)

Remove from oven and cool to room temperature

Spread a nice layer of goats or cream cheese over the top of the toasts

Divide the marinated roasted peppers evenly between the toasts and garnish with fresh basil (or herbs of your choice)
Perfect appetizer or side dish for a rich winter soup.
ENJOY!