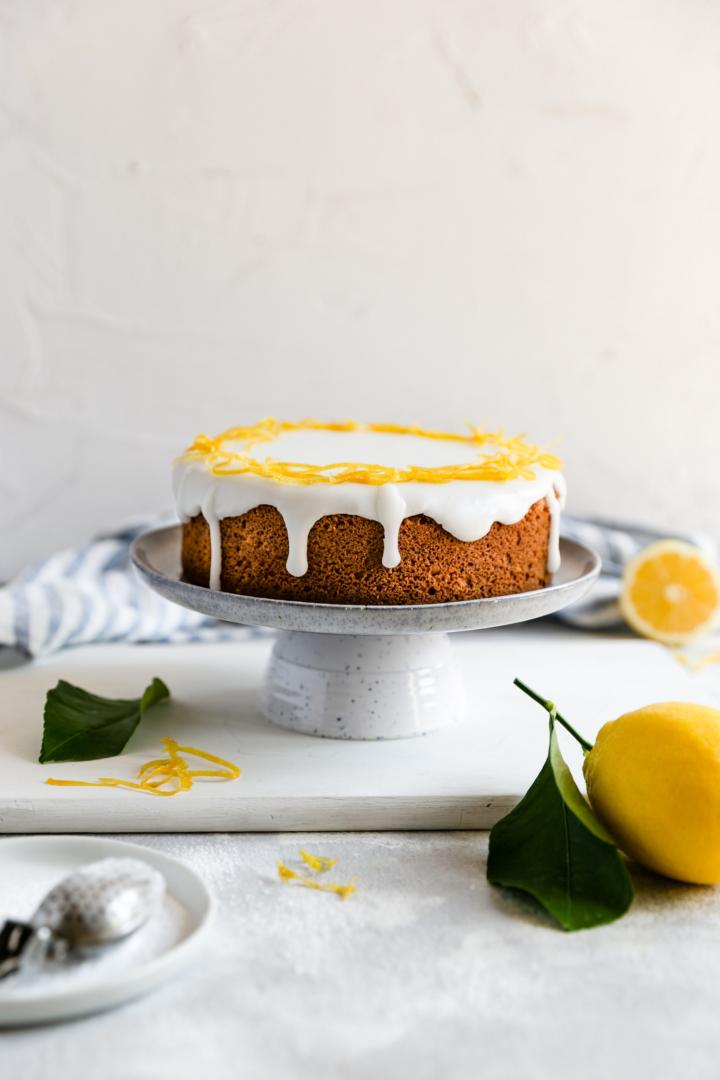 A citrussy sponge with delicious tangy lemon icing, that is an irresistible teatime treat that will have you hooked after just one bite.
Ingredients
175 g unsalted butter (soften + extra for baking tin)
175 g caster sugar
3 large eggs
3 large lemons, zested, plus 4 ½ tbsp juice
250 g Snowflake self-raising flour
½ tsp baking powder
½ tsp salt
100 g plain Greek yogurt
400 g icing sugar
Mint leaves
Lemon candied peel to serve
2 large lemons
200 g granulated sugar
200 ml water
Method
Preheat the oven to 170° C (Fan oven) / 150° C (gas oven)
Butter deep, loose-bottomed, 18cm cake tin
Line the base with baking parchment
Beat the butter and caster sugar together with electric whisk until fluffy
Crack the eggs in one at a time, beating well after each addition
Stir in the lemon zest
Fold in the flour, baking powder and ½ tsp salt
Fold in the yogurt
Spoon the mixture into the lined tin, smoothing the top with a spatula
Bake in the center of the oven for 50 minutes or until a knife comes out clean and the cake is golden brown on the top
Cool in the tin for 10 minutes before turning out onto a wire rake to cool completely
Mix icing sugar and beat in enough of the lemon juice in a bowl, it must have a thick consistency
Set the cake on a serving plate or cake stand then spoon over the icing, allowing it to drip down the sides of the cake
Peel large wide strips from the lemons using a vegetable peeler.
Remove any pith with a knife
Then cut into very thin matchsticks
Tip the granulated sugar into a saucepan with 200 ml
Cook over a medium heat until the sugar has dissolved
Add the lemon peel and simmer gently for 15 minutes
Then scoop the peel out using a slotted spoon and set on a piece of kitchen paper to cool
Top your cake with lemon zest, fresh lemon slices, lemon caddied peel and mint leaves when serving

Serves: 10 to 12 people
Note: The cake will keep in an airtight container for up to 4 days or in the freezer for a month.
ENJOY!