This lemon chicken is easily as good as in any restaurant, and you can make it happen in minutes. Vibrant with bright lemon flavour that delivers a delicious end result that will let you go in for seconds, thirds and many more.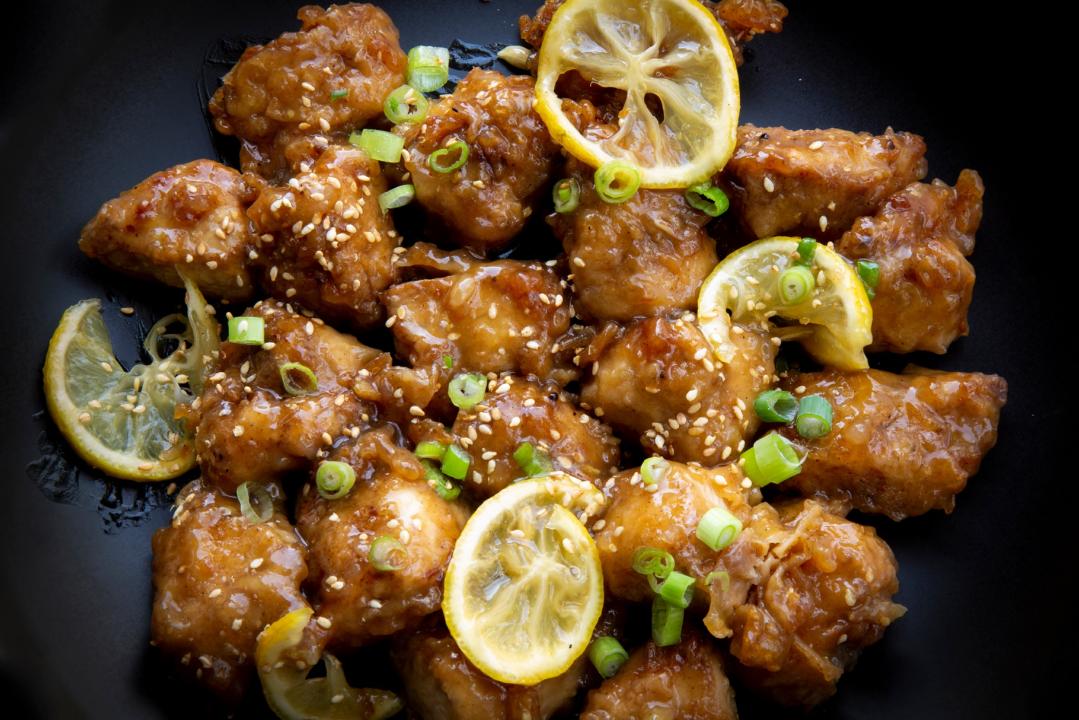 Ingredients
500 g chicken (tenderloin and breasts)
2 eggs
2 tablespoons of soy sauce
60 ml chicken stock
80 ml corn starch
120 ml vegetable oil
Sauce
240 ml chicken stock
80 ml soy sauce
4 tablespoons of Lemon Juice (2 lemons)
2 teaspoons minced garlic
60 ml sugar
4 tablespoons of honey
½ teaspoons salt (to your taste)
4 tablespoons cold water
3 tablespoons corn starch
Thinly sliced green onions, sesame seeds and additional lemon slices
Method
Chop chicken into small pieces (4 cm x 4 cm)
Whisk together eggs, soy sauce and chicken stock
Add chicken and stir to combine
Cover and chill (marinate) for 30 minutes
Transfer chicken pieces to a large zip-lock bag and discard marinade
Add corn starch to the bag, seal and shake to coat chicken completely in the corn starch
Add oil to a large pan and bring to medium-high heat
Transfer chicken to pan trying to arrange pieces so they aren't piled on top of each other
Cook for 3 minutes
Then turn the chicken pieces and cook for another 3 minutes until golden brown
Use a slotted spoon to transfer chicken to a paper-towel
Discard any excess oil in the pan and use the paper towel to wipe it out
Add chicken stock, soy sauce, lemon juice, garlic, sugar, honey and salt to the pan and whisk to combine
Bring to a boil over a medium heat
In a small bowl whisk together water and corn starch until dissolved.
Add to boiling sauce, then reduce heat to low
Stir until thickened
Transfer chicken to the pan and stir for another 3 minutes until the chicken is hot throughout
Transfer to a serving dish with the sticky sauce
Garnish with sesame seeds, sliced green onions and additional lemon slices

Best serve over cooked rice.
ENJOY!