It's Mom (and Grandma's!) big day, so start off Mother's Day on the right note with a delicious breakfast feast – sweet, savoury and everything in between!
Spinach, Tomato and Cheese Quiche
Super easy to make and loaded with delicious flavour.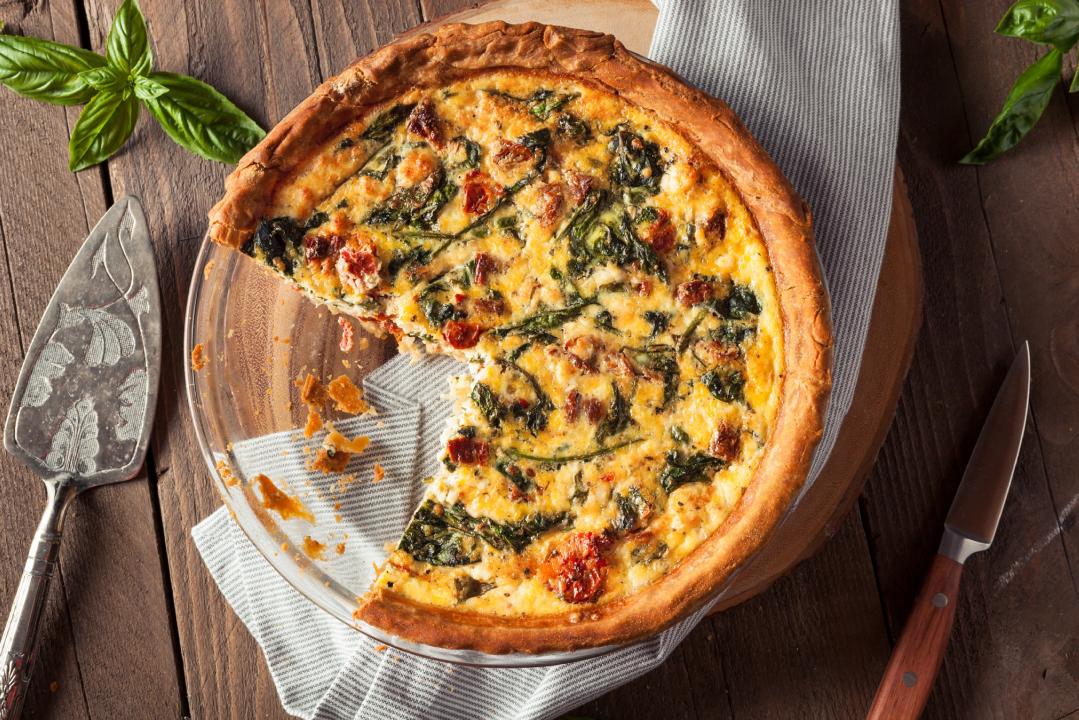 Ingredients
1 packet of frozen pastry dough
1 tablespoon olive oil
2 cups of spinach leaves (packed to the top, trimmed and washed thoroughly)
4 large eggs
160 ml heavy cream or full cream milk
80 ml cheese (feta cheese is the best)
6 cherry tomatoes halved
2 cloves garlic (minced)
2 tablespoons fresh chives (chopped)
Pinch of salt
Ground black pepper
Method
Two hours before you want to make the quiche, take out the dough to defrost

When you ready to start lay the dough into a 25 cm baking tin

Make sure you have enough dough to form a crust around the edge (2 cm from the top of the tin edges)

Crumble the cheese onto the bottom of the crust

Pour the olive oil into a saucepan and cook the spinach until wilted

Spread the spinach over the cheese

Beat the eggs, garlic and cream together

Pour over the cheese and spinach

Place cherry tomatoes on top of the quiche

Sprinkle pinch of salt, chives and ground pepper on top

Bake in a 180° oven for 45 minutes.
Egg, Salmon and Avocado Boats
Deliciousness made for one.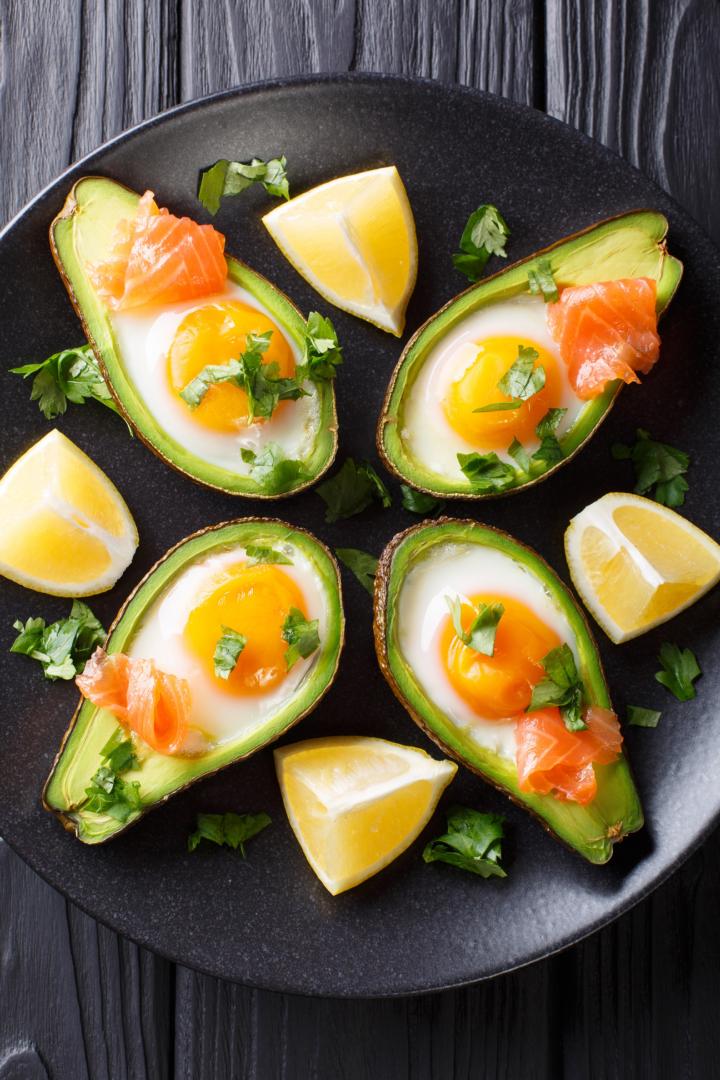 Ingredients
1 large avocado
2 small eggs
40 g smoked salmon
Lemon or Orange wedges
Pinch of salt
Black ground pepper
Italian parsley
Method
Preheat the oven to 200°C

Halve the avocado

Remove the stone

Take out some of the flesh to make the hole in the middle 30% bigger

Take the avocado flesh and mix with lemon, black pepper and salt and put to the side

Take strips of smoked salmon and run them over the avocado hole – pressing down

Separate the egg yolk and white, and tip some of the egg white into the hole – make sure you leave enough room for the yolk

Carefully place the avocado halves on a baking tray in the middle of the oven (you can crush some foil around the avos to make it stable)

Bake the avocados until the whites have just started to solidify for 10 minutes

Carefully remove the tray from the oven and pour in the yolks.

Return to the oven and bake for another 5 to 7 minutes until the yolk stars to solidify (if mom doesn't like runny eggs, bake it a bit longer for the yolk to completely solidified)

Serve with lemon or orange wedges, Italian parsley and the leftover flesh of the avocado.
Bacon Pancakes
A delicious breakfast meal for any morning that satisfy both the sweet and savoury senses.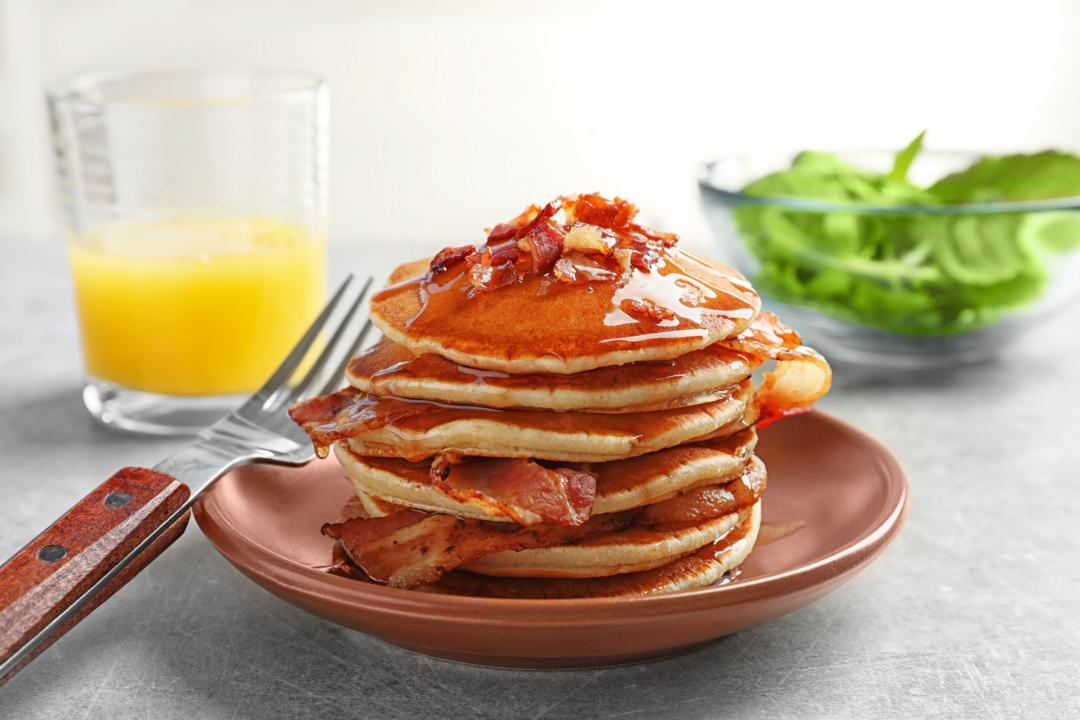 Ingredients
1 cup all-purpose flour (spooned and leveled)
2 tablespoons sugar
1 ½ teaspoons baking powder
½ teaspoon baking soda
½ teaspoon salt
1 ¼ cups buttermilk
2 tablespoons of unsalted butter (melted)
1 large egg
8 to 10 slices bacon
Syrup or honey
Method
Preheat oven to 200°C

In a bowl whisk together flour, sugar, baking powder, baking soda, and salt

In another bowl whisk together buttermilk, melted butter and egg

Whisk flour mixture into the buttermilk mixture just until moistened, with small to medium lumps remaining.

In a large non-stick pan cook bacon over medium-high until fat is rendered and bacon is browned on one side (6 minutes)

Flip and cook until golden and crisp on underside (3 minutes)

Drain bacon on paper towels

Pour off all but 1 teaspoon of fat (reserve for another use)

Heat pan over medium heat

Pour ¼ cups full of batter into the pan, cook until some bubbles appear on top of pancakes and few have burst (about 2 minutes each)

With a spatula carefully flip pancakes and cook until browned on underside (another 2 minutes)

Transfer to a platter and place slice of bacon one each pancake

Keep the pancakes and bacon warm in the oven

Repeat until the batter is finished, adding more bacon fat if needed.

Serve with diced crispy bacon bits on top with either syrup or honey.
Note: remember to serve the breakfast with mom's favourite cup of tea / coffee blend on a beautifully set serving-tray. And don't forget a flower from the garden!
ENJOY!