The true beauty is in the flip - brown sugar and butter create a rich, caramel glaze that coats juicy pineapple rings, cherries and a delicious fluffy sponge cake. What is not to love?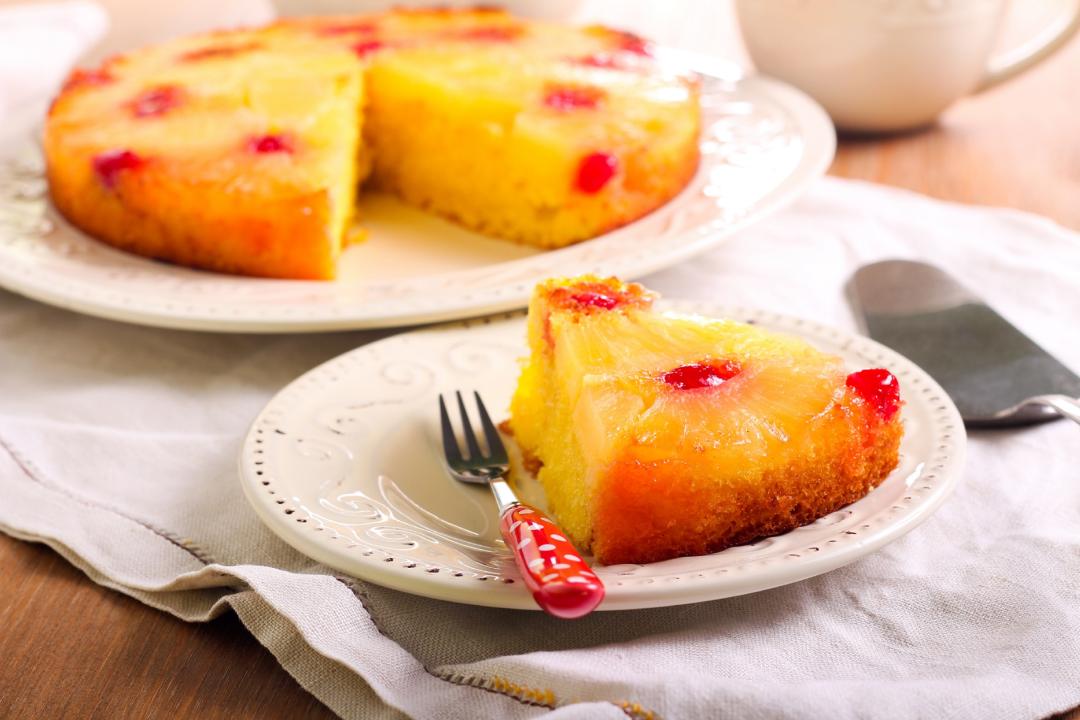 Ingredients
12 tablespoons unsalted butter (room temperature)
3 tablespoons butter for the pan
1 ½ cups all purpose flour (spooned and leveled)
1 teaspoon baking powder
½ teaspoon salt
½ cup brown sugar
½ medium pineapple
12 Maraschino Cherries
1 cup granulated sugar
2 large eggs
1 teaspoon vanilla extract
½ cup full cream milk
Method
Preheat the oven to 180° C
Position the oven rack in the middle of the oven.
Butter a 25 cm round baking cake pan
In a medium bowl whisk together the flour, baking powder and salt – set aside
In a small saucepan combine the brown sugar, 4 tablespoons of butter and bring to a simmer over medium heat util the mixture turns colour (5 minutes of cooking)
Pour the mixture into the baking pan

Using a sharp knife, cut off the pineapple peel, cut the fruit into wedges, and cut out the core; thinly slice crosswise

Starting in the center of the pan, arrange the slices in concentric circles, with the rounded part of each piece toward the outside of the pan (you may not need all of the pineapple – keep for later, dice it finely)

Place the cherries in the center of the pineapple rings

Using an electric mixer, beat the remaining 8 tablespoons of butter with the granulated sugar on medium-high until fluffy (3 minutes) - scrape down the sides of the bowl as necessary

Beat in the eggs, one at a time, then the vanilla extract

Reduce mixer speed to low

Fold in the flour mixture in 2 additions

Add the milk in 2 additions (milk, flour, milk and lastly flour)

Mix just until combined (do not overmix)

Carefully spread the batter over the pineapple rings and cherries

Bake for 55 minutes or until a toothpick or knife inserted in the center comes out clean

Take out of the oven and let it cool for 10 - 15 minutes

Invert the cake onto a serving platter, rearrange any pieces of pineapple that have stuck to the pan

Best serve warm with ice-cream topped with fresh shards of diced pineapple



ENJOY!