If you're looking for a reason to indulge in your favourite foods, look no further. Today the cravings for sugar, carbohydrates, chocolate, salt and so much more are allowed, the only question is are you Team SWEET, TEAM Savoury or BOTH?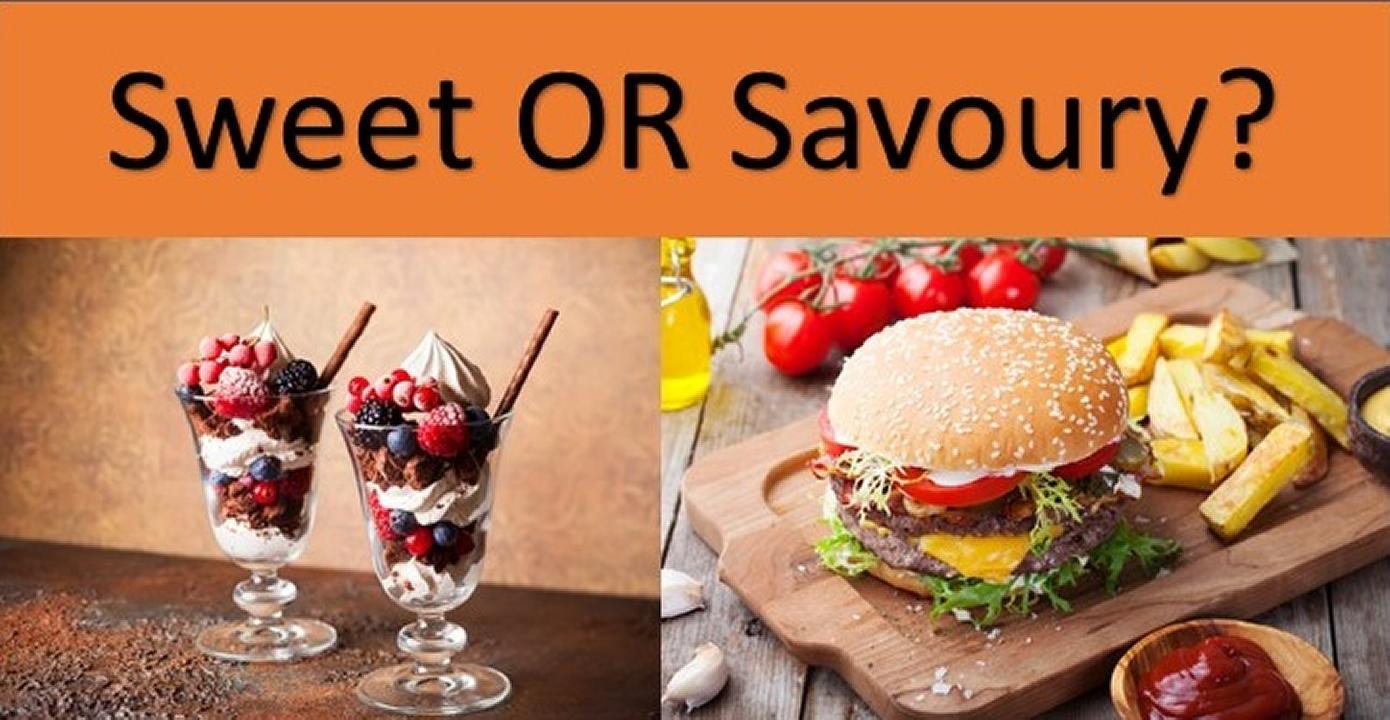 Berry Chocolate Deliciousness
Hit by a sudden, unstoppable sugar craving? This is a no-fuss dessert that will hit the sweet spot just right. Fudgy cubes of chocolate deliciousness with a fruity and cream twist.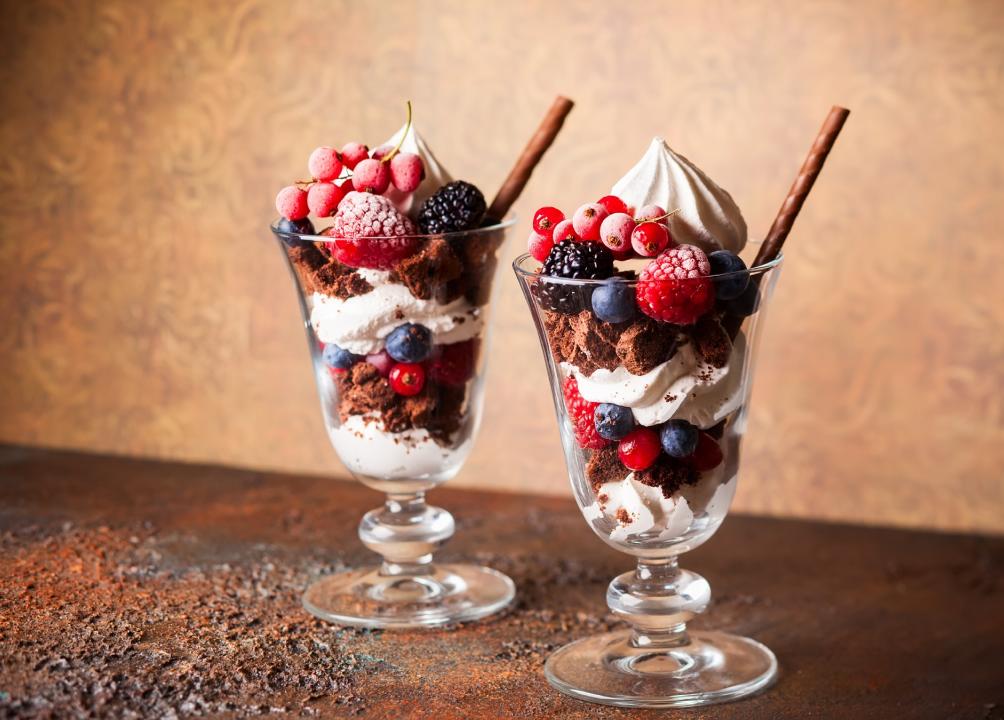 Ingredients
Non-stick cooking spray for the pan
2 ½ cups of Chocolate Nutella spread (hazelnut flavour optional)
1 heaping cup all-purpose flour
3 large eggs
50 g strawberries
50 g blueberries
50 g raspberries
Cherries
Double thick cream
2 tablespoons caster sugar
Method
Preheat the oven to 180° C
Spray 20 cm baking tray with cooking spray
Stir together the chocolate Nutella spread, flour and eggs in mixing bowl
Pour into the coated baking tray to the edges of the pan
Bake until the surface looks set and slightly crisp for about 25 minutes
Cool slightly
Cut up all your berries in fine slices
Mix the cream with caster sugar until thicken (be careful not to let it split)
In a serving glass place a layer of cream at the bottom, then chocolate brownie, then berries, repeat the process until you finish with berries, dust of caster sugar and dollop of cream at the top of the glass.
Ready! Steady! Indulge!
Burger Deluxe
Classic bacon cheese burger with sweet fruity tomatoes, gherkins and vegetable classics - lettuces and onions together with a good slather of mayo makes this the perfect addition to your 'eat what I want menu'!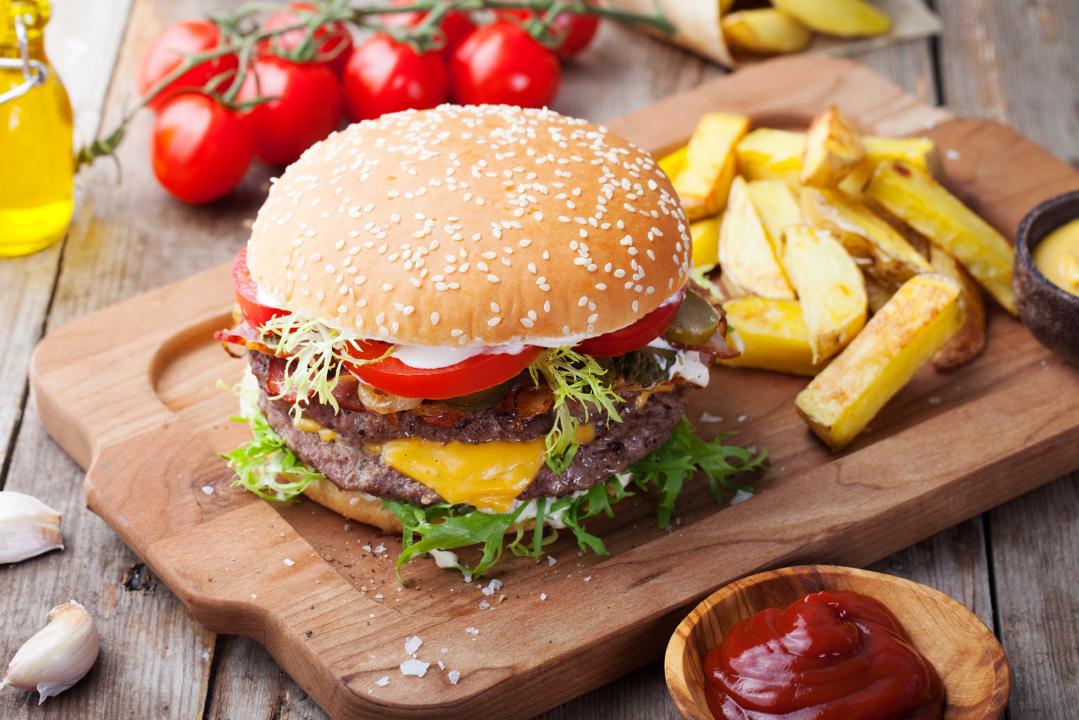 Patties Ingredients
1 onion (finely chopped)
1 garlic clove (crushed)
500 g beef mince
Large handful fresh parsley (finely chopped)
½ breadcrumbs
1 egg (beaten)
½ teaspoon salt (or to your taste)
Ground black pepper (to your taste)
Burgers
4 slices of good cheese
8 slices of bacon (cooked to your liking)
Ripe fruity sweet tomatoes (sliced)
8 slices of Gherkins
4 teaspoons of good quality mayonnaise
4 butter-toasted seeded bread rolls
Homemade hand-cut potato fries
Peel and slice to your liking
Deep fry and have ready for service
Method
Place a bit of olive oil in a large frying pan.
Fry the onions until golden brown.
Add the garlic and fry for another 30 seconds and remove from the heat (allow to cool)
Mix the cooled onions with the beef mince, parsley, breadcrumbs, egg, salt and pepper.
Test the seasoning by frying a teaspoon of the mixture in the pan you cooked the onions, add additional seasoning if needed
Divide the mixture into 6 patties (form patties with wet hands)
Place on a tray lined with baking paper and place in the fridge to chill for 30 minutes
When the patties have rested, heat a large cast iron pan and cook until the burgers are charred and cooked to your preference (you can also put them on the braai)
Remove from the heat, top with the cheese and cover with foil for 2 minutes
Top the buns with a generous spoonful of mayo, lettuce, gherkins place your patty with cheese and finally greasy bacon
Serve with your hand-cut fries and a tomato sauce.
ENJOY!