Go on.. take a dip! No mezze is complete without a bowl of hummus, and there are so many tasty ways to enjoy!

Food Pairings with Hummus
Spread hummus on your favourite breads and biscuits

Use instead of mayonnaise or mustard with a dish

Dip pita or tortilla chips in hummus

Make hummus mashed potatoes for extra nutty and creamy flavour

Pair your favourite veggies with hummus for a delicious lunch- or dinnertime snack

Make a Mediterranean inspired dinner with fish topped with a big spoonful of hummus

Pair your favourite chicken, meatballs or strips of steak with hummus

You can even dip your Haloumi cheese in a spicy hummus



Traditional:
A great spread of Middle Eastern and Mediterranean cuisine.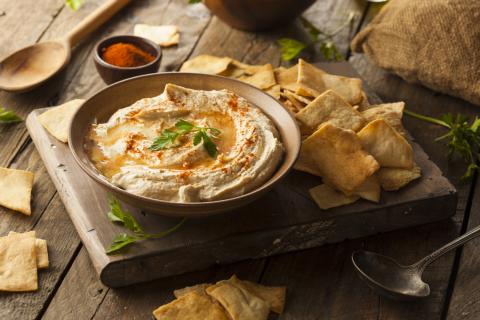 Ingredients
3 cups (375 g) chickpeas (drained with liquid reserved)
3 cloves garlic
1 ¼ cup olive oil
1 cup Tahini
3 lemons (juiced)
Salt to taste
Tahini Paste Ingredients
1 cup sesame seeds
4 tablespoons grape seed oil
Pinch of salt

Method
To make the Tahini
Add sesame seeds to a wide and dry saucepan over medium-low heat

Toast the seeds stirring constantly until the seeds become fragrant and lightly coloured (3 to 5 minutes) - be careful as sesame seeds can burn quickly

Transfer toasted seeds to a baking sheet or large plate and let it cool completely

Add seeds to a bowl of food processor then process until a crumbly paste (1 minute)

Add 3 tablespoons of grape seed oil, keep blending slowly

Process for another 3 minutes, stopping to scrape the bottom and sides of the food processor a couple of times. Consistency needs to be smooth and not gritty

Include a pinch of salt and mix for another 5 minutes

Jar it for later use



To make Hummus
Place garlic in food processor, chop thoroughly

Add chickpeas and blend into a paste

Pour 1 cup olive oil, lemon juice, salt to the processor.

Stir Tahini thoroughly and add it to the mixture

Blend until smooth and creamy

If the hummus is to thick or still has tiny bits of chickpeas, with the food processor turned on slowly add 1 to 3 tablespoons of the chickpea liquid

Once smooth place the hummus in a bowl and top with ¼ cup of olive oil
Ready for serving with vegetables or variety of breads

Avocado Hummus
It the best of both worlds, guacamole and hummus combined – just delicious!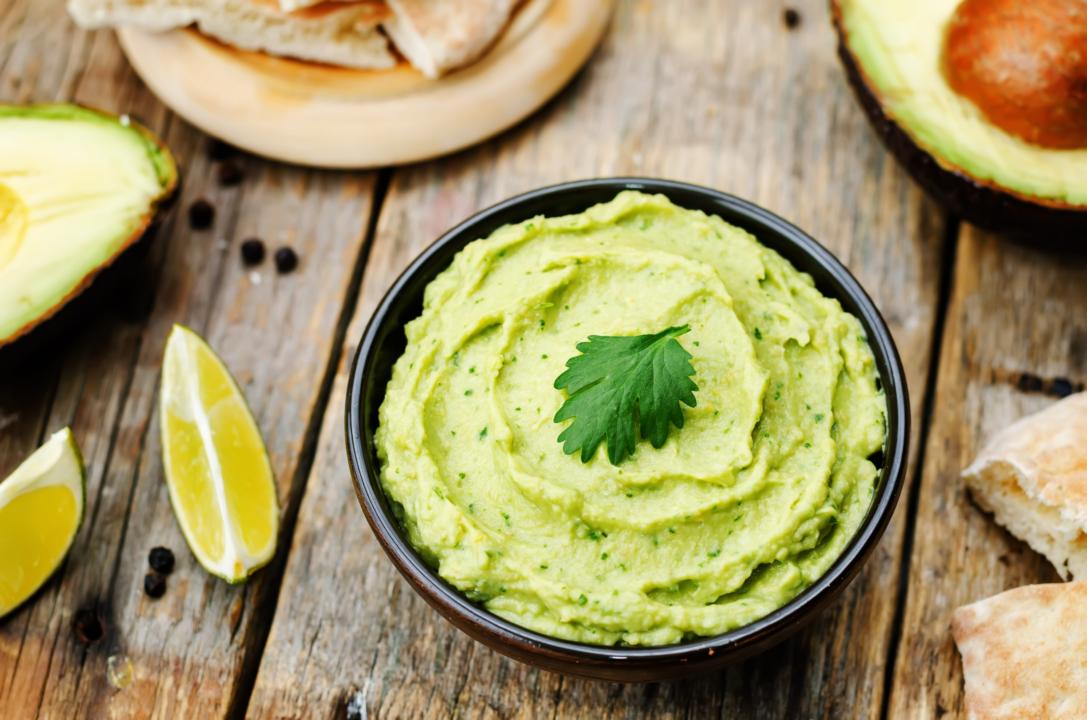 Ingredients
2 ripe avocados cored and peeled
1 tablespoon chopped cilantro (optional)
¼ teaspoon cumin
Red pepper flakes and lemon slices for garnish
Method:
Combine the traditional hummus ingredients (see above), avocados, cilantro and cumin in the bowl of the food processor. Blend until smooth. Pour two table spoons of olive oil (traditional recipe ingredient) over the avocado hummus and the red pepper flakes and lemon slices as garnish.
Roasted red pepper Hummus
This is slightly smoky, sweet with just enough spicy kick.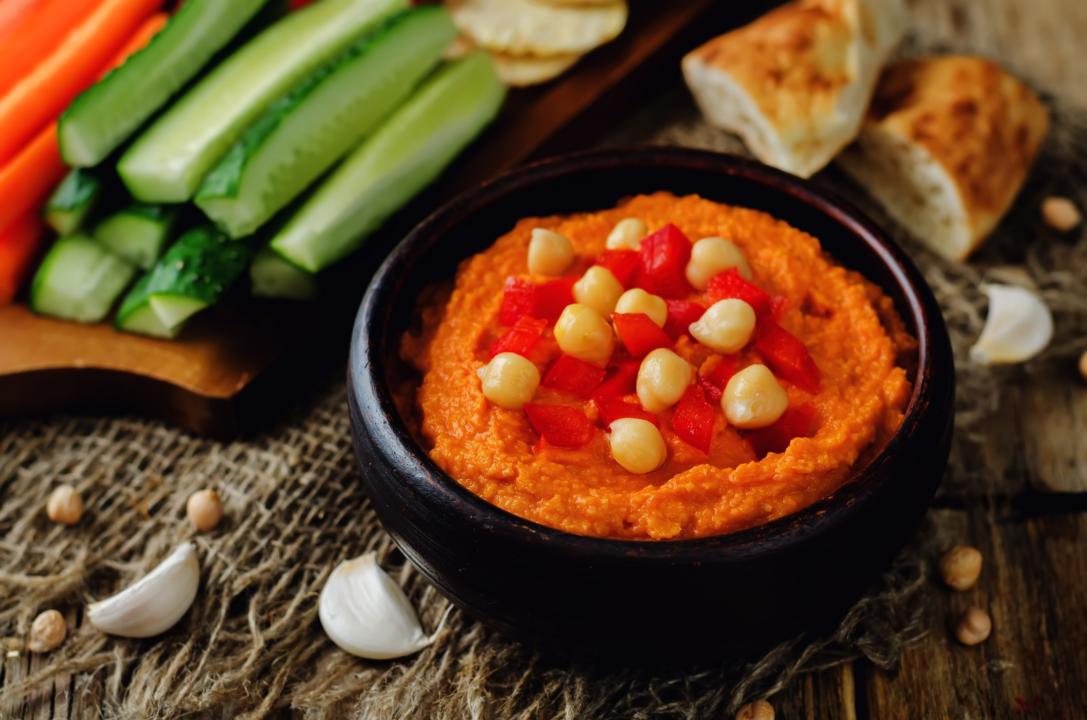 Ingredients
2 red bell pepper (remove the core)
2 tablespoons olive oil
½ teaspoon smoked paprika
½ teaspoon of cumin
2 tablespoons pine nuts (optional)
2 cups of Hummus
Method
Preheat the oven to 180° C

Place the bell pepper upside down onto a baking tray

Drizzle the olive oil over the peppers

Grill for about 15 minutes until charred and tender

Remove from the oven and let it cool and drain the oil

Remove the skin

Combine traditional hummus recipe ingredients (see above) add the peppers, smoked paprika and cumin to the hummus mixture and process until smooth. Pour the ¼ cup of olive oil over the roasted pepper hummus
Sweet Potato Hummus
A little sweet and spicy. Just great with tortilla chips, veggies or straight from the spoon.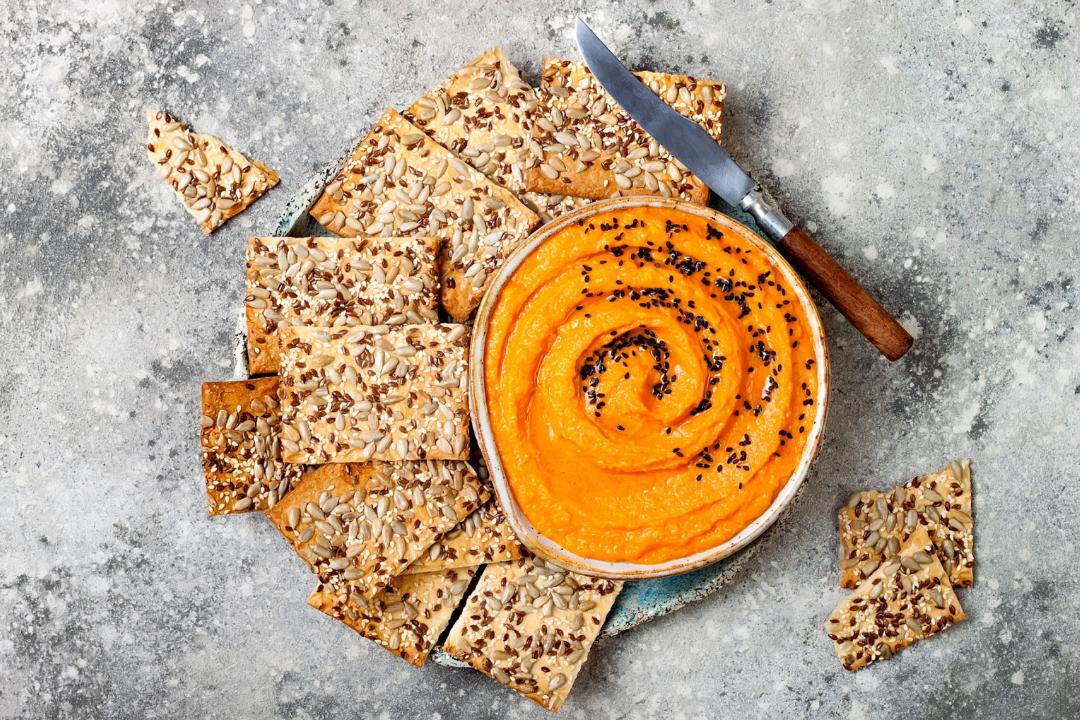 Ingredients
3 cups of sweet potatoes (2 small sweet potatoes)
½ teaspoon cumin
½ teaspoon chili powder
½ teaspoon coriander
½ teaspoon honey
Method
Fill a pot with water

Add a steamer basket and sweet potatoes

Bring to a boil, reduce heat and simmer for 20 minutes

Sweet potatoes must be fork tender

Drain and rinse under cold water to cool down

Combine the traditional hummus ingredients with the sweet potatoes, cumin, chili powder, coriander and honey in the food processor. Blend until smooth.

Add oil and serve with an array of your favourite breads and veggies

NOTE: Best serve room temperature
ENJOY!