Passionate about the culinary arts, Capsicum Culinary Studio, our sponsor, shared a delicious, tender and melting in your mouth rich duck recipe with fresh, luscious flavours. A perfect celebration of Autumn.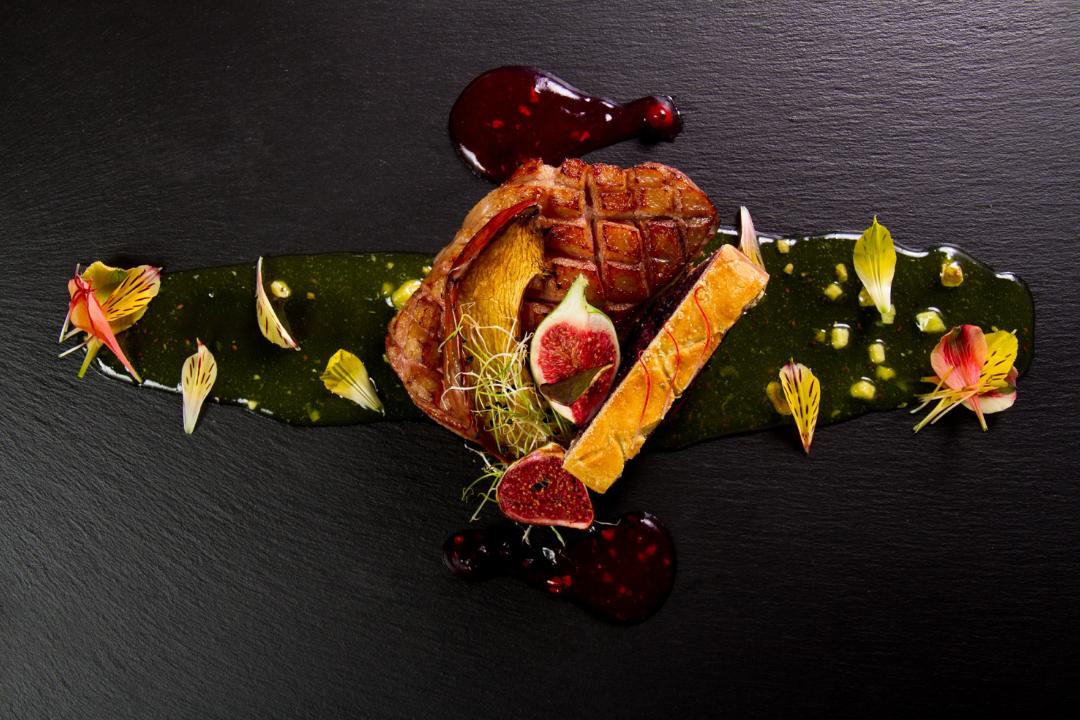 Confit duck leg and smoked blade of duck breast, roasted figs and beetroot compote, garlic & parsnip puree with edible autumn leaves.
Serves 4
Prep time: 1 hour
Cook time: 4 hours

Ingredients: Duck leg confit
4 Duck leg quarters
4 tsp Rock Salt
1 Star Anise
2 tsp Sichuan peppercorns, crushed
2 cloves Garlic, crushed
5 sprigs Fresh Thyme
1 Orange, sliced
500 ml Rendered duck fat
Method:
Combine the rock salt, star anise, Sichuan pepper garlic, thyme and orange and coat the duck legs in the mixture

Place in a non-reactive container like a stainless steel or glass bowl and leave to cure overnight

Once cured place in a roasting tray and cover with duck fat

Cook in a 140°C oven for 4 hours. Meat should fall of the bone

Let cool before shredding the meat



Ingredients: Smoked duck breast
4 Duck breasts
Apple wood chips for smoking
15 ml Soy Sauce
5 ml Mirin
15 ml Honey
1 clove Garlic, minced
5 g Fresh Ginger, grated
Salt and pepper to taste
Sunflower oil for pan frying
Method:
Score the duck breast fat layer into a criss-cross pattern and place the duck breast in a container, cover with plastic wrap. Using a cold smoke gun inject smoke from the apple wood chips into the container until the duck breast is fully submerged in smoke. Seal the container and let it stand for 40 min – 60 min

Mix the Soy sauce, Mirin, honey, garlic and ginger together and season with salt and pepper

Once duck breast has been infused with the smoke place in the soy mixture and let marinade for another 30 min

Place a large frying pan over a medium to low heat and place the duck breast skin down in the pan with a little bit of cooking oil. Slowly render out the fat until the skin is dark brown and crispy.

Remove the breast from the pan and turn the temperature onto high heat. Let the pan get hot before placing the duck breast flesh side down to seal and brown the duck breast. Cook until pink in the center



Ingredients: Fig and Beetroot Compote
100 g Mediterranean figs
100 g Baby beetroot
20 g Brown sugar
20 ml Honey
20 ml Balsamic vinegar
1 Orange (zested and juiced)
Salt and pepper to taste
Method
Boil baby beetroot until tender in salted water, Let cool and peel the beetroot and cut into large cubes

Place the beetroot and the figs into a roasting pan and drizzle with honey, Roast until soft and caramelised in a 180°C oven. About 15 min

Place the fig and beetroot mixture along with roasting juices into a sauce pan and add the sugar, balsamic vinegar and orange zest and juice. Bring to a simmer and reduce until slight syrupy consistency is achieved

Blend until smooth and season to taste



Ingredients: Garlic and Parsnip puree
200 g Parsnip, peeled and grated
3 cloves garlic, minced
50 g Butter
100 ml Cream
Salt and pepper to taste
Method
Sweat the grated parsnip and garlic in butter until tender

Add the cream and reduce until thick.

Season to taste and puree



Ingredients: Edible Autumn Leaves
4 sheets of rice paper
4 ml Sesame oil
5 ml Soy Sauce
5 ml Mirin
1 drop red gel food colouring
Salt and pepper to taste
Method
Mix the Sesame oil, soy sauce, mirin and food colouring together

With a pastry brush, brush over the rice paper unevenly to achieve different shades of colouring

Let the rice paper dry before cutting into leaf shapes to be used as garnishing



Garnish
You can also use edible flowers like Nastartium, Pansy, Citrus blossoms, etc. for garnishing your dish before serving
ENJOY!