Deliciousness in one bowl, packed full of flavour. This curry-spiked, vegetable-laden lentil soup recipe is so much more than meets the eye.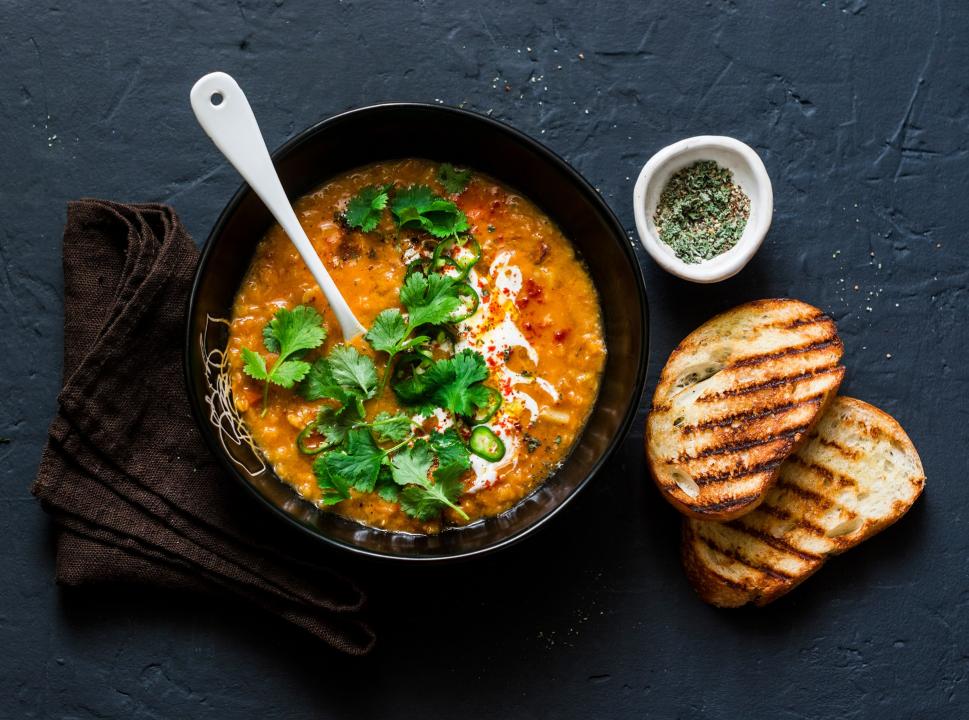 Ingredients:
2 tablespoons olive oil
¼ cup water
¼ cup thinly sliced onion
3 cloves garlic (minced)
1 tablespoon of ginger (minced)
1 small red chili (seeds removed and minced)
2 cups thinly sliced carrots
1 pinch sea salt
3 cups vegetable broth
½ cup coconut milk
2 tablespoons of coconut flesh
1 cup uncooked rinsed lentils
1 tablespoon of curry powder
1 tablespoon Red pepper flakes (optional)
Fresh lemon or lime juice (zested)
Cilantro
Coconut cream
Method
Heat a large pot over medium heat
Once hot, oil and onion
Sauté for 2 minutes, stirring frequently until slightly caramelised
Add garlic, ginger and chili and sauté 2 minutes
Add water and boil for 2 minutes
Add carrots and a pinch of salt and stir
Cook for 2 minutes, stirring occasionally
Add vegetable broth and coconut milk and increase the heat to medium high
Bring to a low boil
Then add lentils and stir
Once the mixture comes back to a low bubble, reduce heat to low and simmer
Add coconut flesh, curry powder and red pepper flakes
Simmer the soup uncovered, stirring occasional for 16 minutes and until lentils are tender
If the mixture becomes too thick, you can add more coconut milk or vegetable broth when needed. (Taste and adjust flavour as need by adding more salt and curry powder if needed)
Divide between serving bowls and garnish with fresh cilantro, zest of lemon, lemon juice and fresh coconut cream.
Serve with delicious garlic bread

Note: You can keep leftovers in the fridge up to five days or in the freezer for one month
ENJOY!