Holiday Pumpkin Pie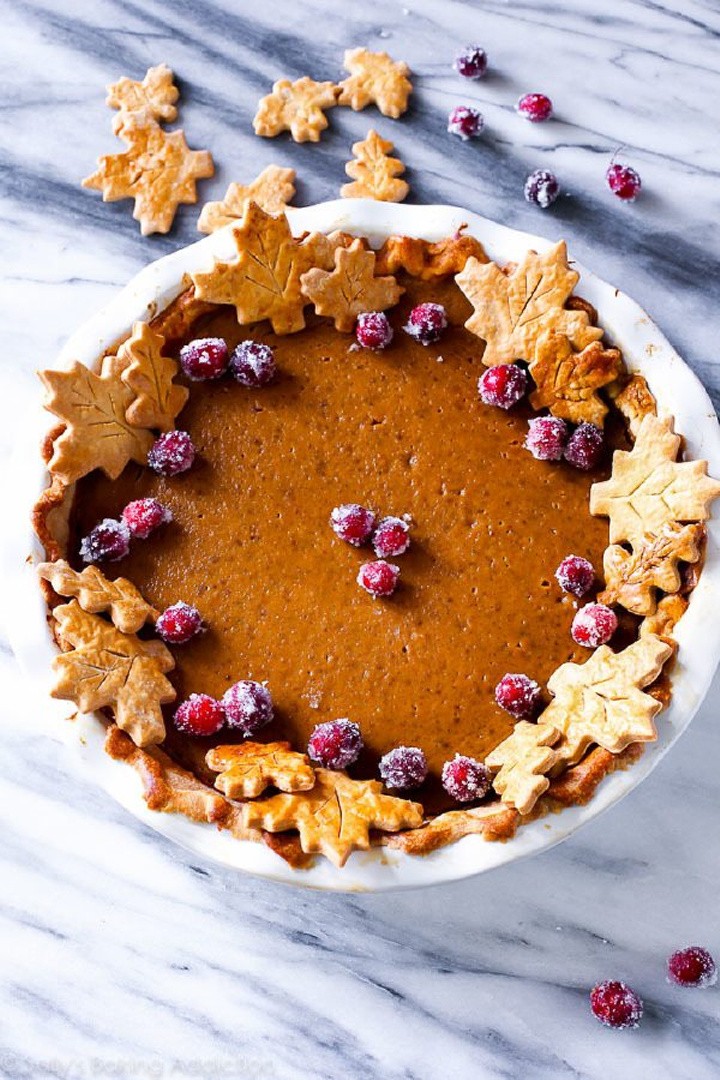 Step 1 - Shortcrust Pastry
Ingredients
2 and 1/2 cups (315g) all-purpose flour (spoon and levelled)
1 teaspoon salt
6 Tablespoons (90g) unsalted butter, chilled and cubed
3/4 cup (148g) vegetable shortening, chilled (we will be using cold coconut oil)
1/2 cup (120ml) ice water
Instructions
Mix the flour and salt together in a large bowl. Add the butter and shortening.
Using a pastry cutter or two forks, cut the butter and shortening into the mixture until it resembles coarse meal (pea-sized bits with a few larger bits of fat is OK).
Measure 1/2 cup (120ml) of water in a cup. Add ice. Stir it around. From that, measure 1/2 cup (120ml) of water– since the ice has melted a bit. Drizzle the cold water into your mixture, 1 Tablespoon (15ml) at a time, and stir with a rubber spatula or wooden spoon after every Tablespoon (15ml) added. Do not add any more water than you need to. Stop adding water when the dough begins to form large clumps.
Transfer the pie dough to a floured work surface. The dough should come together easily and should not feel overly sticky. Using floured hands, fold the dough into itself until the flour is fully incorporated into the fats. Form it into a ball. Divide dough in half. Flatten each half into 2.5 cm thick discs using your hands.
Wrap each tightly in plastic wrap. Refrigerate.
Now you make your sugared cranberries. Note: When rolling out the chilled pie dough discs a little later, to use in your pie, always use gentle force with your rolling pin. Start from the centre of the disc and work your way out in all directions, turning the dough with your hands as you go. Visible specks of butter and fat in the dough are perfectly normal and expected!\
Step 2 - Sugared Cranberries
Ingredients
1 cup (120g) fresh cranberries
2 cups (400g) granulated sugar
1 cup (240ml) water
Instructions
Place cranberries in a large bowl; set aside.
In a medium saucepan, bring 1 cup of sugar and water to a boil and whisk until the sugar is dissolved.
Remove the pan from the heat and allow to cool for 5 minutes.
Pour sugar syrup over the cranberries and stir.
Let the cranberries sit in the refrigerator while you make your pumpkin filling. You'll notice the sugar syrup is quite thick after this amount of time.
When you are ready to decorate your Pumpkin Pie, drain the cranberries from the syrup and pour 1 cup of sugar on top. Toss the cranberries in the sugar, coating them all the way around.
Then pour sugared cranberries on to parchment paper to dry.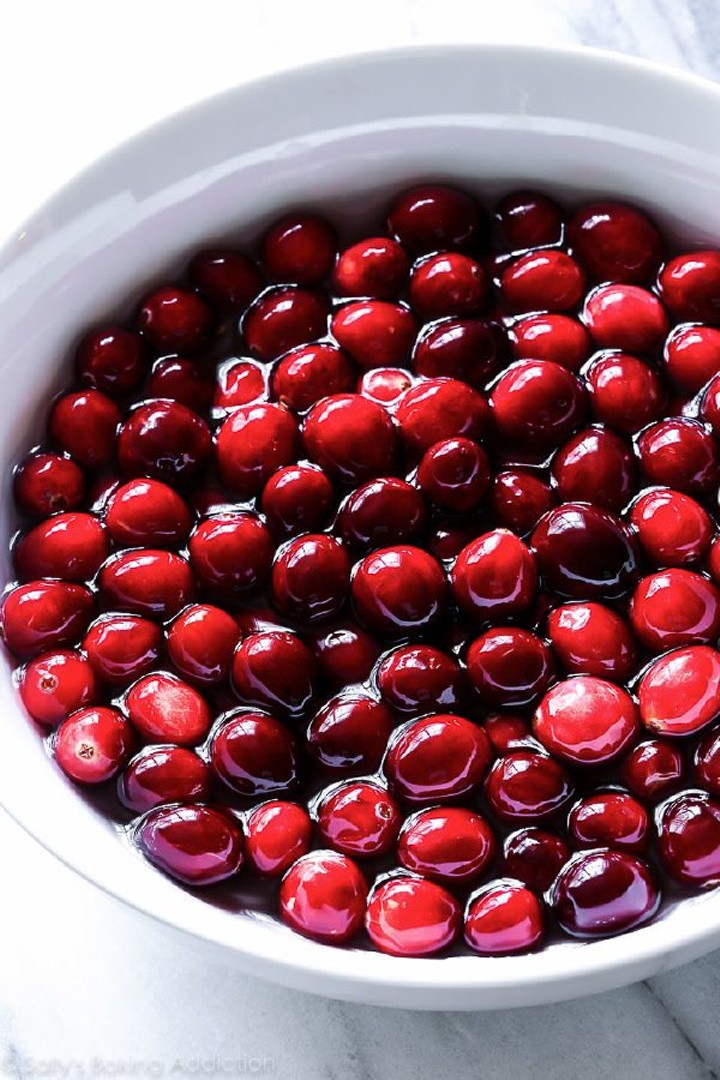 Step 3 - Pumpkin Pie Filler
Ingredients
Homemade pie crust (which you made earlier)
2 cups (450g) pumpkin puree
3 large eggs
1 and 1/4 cups (250g) packed light or dark brown sugar
1 Tablespoon (8g) cornstarch
1/2 teaspoon salt
1 and 1/2 teaspoons ground cinnamon
1/2 teaspoon ground ginger
1/4 teaspoon ground nutmeg
1/8 teaspoon ground cloves
1/8 teaspoon fresh ground black pepper
1 cup (240ml) heavy cream
1/4 cup (60ml) milk
Egg wash: 1 large egg beaten with 1 Tablespoon milk
Instructions
Whisk the pumpkin, 3 eggs, and brown sugar together until combined. Add the cornstarch, salt, cinnamon, ginger, nutmeg, cloves, pepper, cream, and milk. Vigorously whisk until everything is combined. Filling will be a little thick.
Preheat oven to 190°C.
Roll out the chilled pie crust: Remove 1 disc of pie dough from the refrigerator. On a lightly floured work surface, roll the dough out into a 30cm circle. Make sure to turn the dough about a quarter turn after every few rolls. Carefully place the dough into a 20-cm pie dish. Tuck it in with your fingers, making sure it is smooth. With a small and sharp knife, trim the extra overhang of crust and discard. Crimp the edges with a fork. Brush edges lightly with egg wash mixture. Line the pie crust with parchment paper. (Crunch up the parchment paper first so that you can easily shape it into the crust.) Fill with pie weights - which we will substitute with dried beans. Make sure the beans are evenly distributed around the pie dish. Pre-bake the crust for 10 minutes. After which, carefully remove the parchment paper & dried beans.
Now pour your pumpkin pie filling into the warm pre-baked crust. Only fill the crust about 3/4 of the way up. Bake the pie until the centre is almost set, about 55-60 minutes. A small part of the centre will be wobbly – that's ok.
Note: After 25 minutes of baking, be sure to cover the edges of the crust with aluminium foil to prevent the edges from getting too brown. Check for doneness at minute 50, and then 55, and then 60, etc.
Once done, transfer the pie to a wire rack and allow to cool completely.
Decorate with sugared cranberries and pie crust leaves (which you can make out of extra pie crust).
Serve pie with whipped cream!