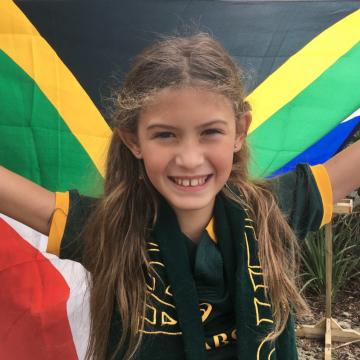 Mia's Raspberry & Blueberry Sponge Cake Surprise
Butter cake
prep: 15min / cook 45min
Ingredients
250g butter, softened
1 cup caster sugar
2 tsp vanilla extract
3 eggs
2 cups self-raising flour, sifted
2/3 cups milk
Icing sugar

Raspberry Compote
prep: 5min / cook 8 mins

Ingredients
1 tub of fresh raspberries
2 tsp water
Blueberries for taste

Method:
1. Prephead oven to 180C. Line a 20cm square cake pan with baking paper and set inside.
2. Using a hand mixer, beat the butter, sugar and vanilla in a mixing bowl until pale and fluffy.
3. Beat the eggs in one at a time until combined.
4. Add half of the flour and half of the milk and fold into the mixture using a spatula. Add the rest of the flour and milk and continue to fold until all combined.
5. Pour cake mix into the cake tin and smooth top.
6. Bake for 45 minutes or until a skewer inserted into the centre of the cake comes out clean.
7. Leave to cool for 10mins and then turn out into a wire rack to finish cooling
8. Raspberry compote - put the tub of raspberries into a pan with water and let it boil stir occasionally until ready to serve.
9. Cut a rectangle in to the top of the cake and pour the raspberry compote into it and add blue berries to taste.
10. Sprinkle icing sugar though a sieve for decoration
Ready for tea...