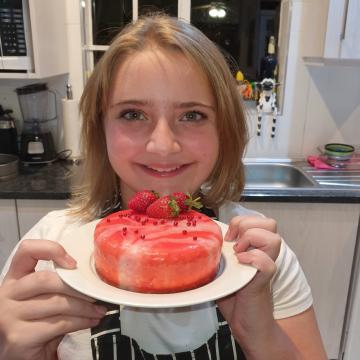 Tantalising Strawberry Delight
Strawberry & White Chocolate Mousse Cake:

Ingredients:
250g crushed tennis biscuits
100g butter
200g white chocolate
150ml cream
2tsp gelatin powder
2 tbls water
500ml cream

Instructions:
Crush the biscuits and mix together with melted butter - press into pan and refrigerate until set (+/-15mins)
Place strawberries and sugar into a saucepan and heat until the sugar has dissolved and the strawberries have softened.
Add the gelatin powder and water and mix until dissolved.
Place into a blender and blend until smooth - leave to cool.
Melt the white chocolate and cream together in a saucepan. Add the gelatin and water and mix until dissolved - leave to cool.
Whip the cream and fold half into the white chocolate mixture and half into the strawberry mixture.
Spread the white chocolate mousse over the set biscuits and place back into the fridge for 10-15 minutes until starting to set.
Pour over the strawberry mousse and place back into the fridge to set completely for 2-3 hours.

Mirror Glaze Recipe:

Ingredients:
1 1/2 cups sugar
2/3 cups sweetened condensed milk
1/2 cup + 1 tbls water

2 tbls gelatin powder plus 1/2 cup + 1 tbls water

350g white chocolate chips
Gel food colouring
Frozen cake

Instructions:
Add the sugar, sweetened condensed milk and water to a medium sized saucepan and heat over medium heat, stirring occasionally.
Pour the water into the powdered gelatin and mix with a spoon - leave to swell for a few minutes.
When the sugar, sweetened condensed milk and water begins to simmer, remove from the heat and add the swelled gelatin. Stir until the gelatin has dissolved.
Pour the hot liquid on top of the chocolate chips and leave for to sit for 5 minutes to melt.
Use a whisk to stir the glaze until the chocolate has completely melted.
Add the gel food colouring and stir until well mixed - making sure not to make any bubbles. Leave to cool.
Once the glaze has cooled to 37C pour it over the frozen cake which is on top of a cup sitting on a tray to catch the drips.
Leave the glaze to set for 15 minutes before using a spatula to remove the drips.
Transfer the cake to the fridge to set for a few hours before serving.