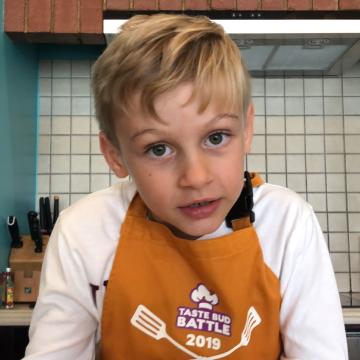 Banana Bread Cookie with vanilla ice cream & strawberry syrup
Strawberry Syrup
500g strawberries
2 cups of water
1 cup of sugar

Mix all the ingredients in a pot. Place on the stove for 1 hour or until strawberries are soft and squishy and more sticky than runny.

Banana Biscuit
1/2 cup sugar
2/3 cup butter
2 eggs
2 1/4 cups flour
2 tsp baking powder
1/2 tsp baking soda
1/2 tsp salt
1/2 tsp cinnamon
3 banana's

preheat the oven to 180 degrees. Mix all the wet ingredients together with a mixer and then add the dry ingredients. place a "blop" of your mix onto a lined backing tray. Place in the oven to cook for 15 to 20 mins.

Take your store bought ice cream and make a ball to pop on the plate. then add the cooled cookie on top with a drizzle of your strawberry syrup. add fresh strawberries and flower for decoration.